ZoomPad
An essential partner for your keyboard!
สั่งซื้อระหว่างวันที่ 25-27 กรกฎาคม 2566 นี้
รับฟรี คัสต้อมคีย์แคปจำนวน 1 ชิ้น ( สุ่มแบบให้)
---
SOUTHPAW VERSION (No switch / No keycaps)
[Knob on top left]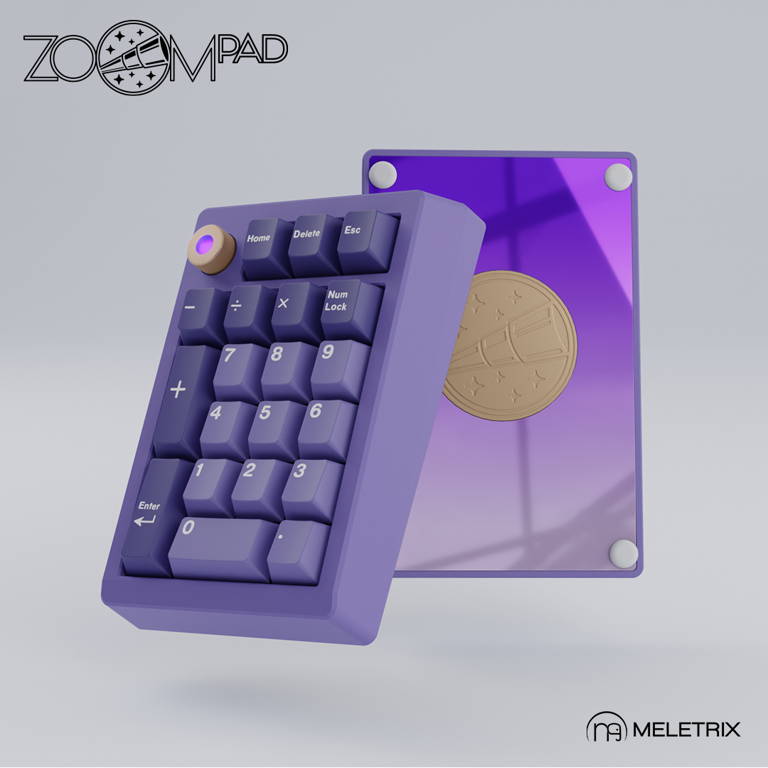 ---
สามารถเช็ครายละเอียดของสีและออปชันได้ที่ CONFIGURATOR
NEW DESIGN KNOBS: SPINNY FRIENDS
We design lovely Spinny Friends Knobs as an add-on option. Featuring a cute animal pattern design, they offer a unique companion for your Numpad.
We also have the custom knob shown before, so you won't have to regret not getting it.
HOW THE NIGHTLIGHT KNOB WORKS
An illuminated RGB encoder that has a few different light modes, while also featuring illuminated elements to provide visual feedback or aesthetic appeal.
Note: *Only available on Tri-Mode PCB.
Note:
NightLight Knobs can be installed on other Zoom series models but will not display the RGB effect.
On the other hand, the Spinny Friends series knobs are perfectly compatible with the Zoom series.
---

Kitting Information
The table below shows which PCB and Backplate are included with each version of the ZoomPad. Additional information is also provided for select versions.
Group Buy Disclaimer
NOTE: This is a Group Buy, and Group Buy terms and conditions apply. The estimated date of delivery is just that – an estimate. Delays and setbacks may occur. Upon purchase, you will be charged immediately. And by purchasing this item, you acknowledge everything stated above. There are no refunds or cancellations for this order.
ข้อจำกัดความรับผิดชอบในการซื้อ Group Buy
วันที่จัดส่งโดยประมาณเป็นเพียงค่าประมาณเท่านั้น อาจเกิดความล่าช้าและมีการแจ้งวันที่ส่งใหม่ได้ เมื่อซื้อแล้ว คุณจะถูกเรียกเก็บเงินทันที และโดยการซื้อสินค้านี้ คุณรับทราบทุกอย่างที่ระบุไว้ข้างต้น ไม่มีการคืนเงินหรือยกเลิกสำหรับคำสั่งซื้อนี้มุกกรณี
Gasket mount
PCB: Tri-Mode (Wired, Bluetooth, and 2.4g), 1.2mm, per-key RGB
5° Typing angle
20mm front height
Upgraded electrostatic finish used on Wired and EE
E-Coat (E-White) and anodized finish used on SE and Kitsune
Case Material: 6063 Aluminum
Battery Capacity: 600mAh
Knob compatible with Zoom75 and Zoom65 V2